Knowledge Management Initiative
A State Level IT Summit on Careers and Opportunities in IT Sector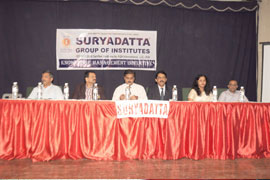 Explored the various avenues in IT sector to students willing to pursue a career in IT. Current trends and developments in the ever changing IT sector.

Suryadatta Group of Institutes' Suryadatta College of Management Information Research & Technology (SCMIRT), Pune has organized a State Level IT Seminar – "Careers & Opportunities in IT Sector & how to prepare for successful corporate career in IT" on the 1st October 2011.

Dr. K. C. Mohite, Dean Science Faculty, University of Pune was the chief guest of the event. The session proceeded with his valuable address to the students on "Importance of Education and its relevance in the field of Education. Dr. Deepak Shikarpur, eminent IT professional was also present as the Guest of Honor. The key speakers on the occasion were Mrs. Sulakshana Patankar, COO, WNS (India) - India's Largest KPO, Mr. Satish Agrawal, VP (Cloud Computing Practice) e-Zest Solutions Ltd and Mr. Abhik Chakravaty, Associate VP, Zensar Technology.

The students were provided with information on topics like Careers in Outsourcing, Cloud Computing, and Remote Infrastructure Management at the summit. Dr. Deepak Shikarpur addressed the gathering on the topic "Role of Social Media in Today's Corporate World", while Prof. Dr. Sanjay Chordiya discussed the motive behind organizing the summit.

Mrs. Sulakshana Patankar, COO of WNS said, "Working in Call centers is considered to be low profile by many. But it is not so. Call center is very much a part of IT sector and has many potential career opportunities like other IT fields." Corporate personality, Mr. Abhik Chakravarty, Associate VP, Zensar Technology spoke about Remote Infrastructure Management.

At the occasion Prof. Dr. Sanjay Chordiya, Chairman, Suryadatta Group of Institutes said, "The IT sector has immense scope and avenues yet to be explored. The technology revolution has infused the market place with new careers and professions in IT. Suryadatta thought that it would be a good idea to encourage and motivate our students towards the IT Field. This seminar is mainly aimed at exploring IT as a career. The seminar has eminent personalities from the IT Sector to guide the students."

The summit was concluded with the question and answer sessions, which got huge response from students. On their queries, the experts advised them on various topics so as students can in future explore these areas for their professional careers.
Marissa G, Member of Rotary International visits Suryadatta
Suryadatta Group of Institute had jointly organized a National IT Conference